Construction dust can cause damage to workers' health and cause life-threatening diseases. Construction sites are hazardous environments, with workers exposed to many types of dust, such as silica, wood, and lead dust.
The JSP Force 8 is a reusable half-mask, negative-pressure respirator. It consists of a filter-holding unit and is made from moulded rubber. The mask has intake and exhaust valves attached to adjustable straps, which fit tightly to the wearer's face. The JSP Force 8 has a replaceable filter that removes dust when the facepiece seal is leak-tight and delivers high protection against water and oil-based dust, mists and fumes.
Does your mask fit correctly?
If your mask isn't fitted correctly, it won't give you the protection you need. Luckily, the new Force 8 PressToCheck means that the fit of the JSP mask can be checked quickly and easily.
1. FIT IT! Put the straps and harness over your head and pull them to a suitably tight and comfortable fit for you.
2. PRESS IT! Use the PressToCheck function and squeeze the front and backs of both filter covers together to stop air from entering through the filters.
3. CHECK IT! When you inhale, no air should come through the mask. If it does, adjust the mask and straps and repeat the process until it doesn't. Release when seal is made.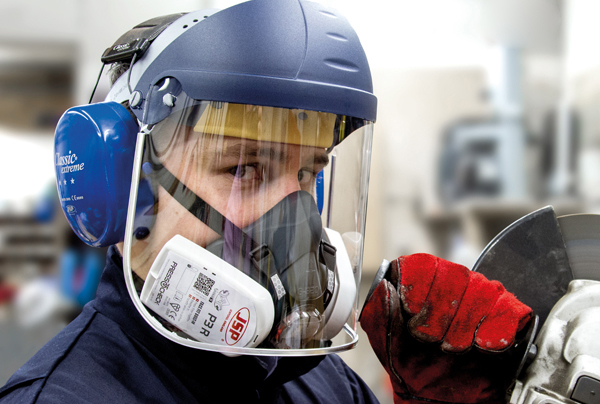 What makes the JSP Force 8 Half Mask so great?
It provides protection against construction dust.
Made from lightweight thermoplastic rubber, it is flexible, fits most face shapes and is comfortable to wear.
The 4-point cradle suspension harness with quick-release buckles ensures a daily face fit reassurance.
The CR2 reflective strips create increased visibility in low light environments for added safety.
The face mask components break down easily, allowing for cleaning and maintenance, making it more hygienic.
It passed the dolomite clogging test and conforms to EN143.
Fits easily to the Force 8 Respirator
Has an advanced Typhoon Exhalation Valve that provides low breathing resistance, low heat, moisture and CO2 build-up also performs well at low temperatures.
Features a Force 8 PressToCheck function, which instantly indicates if you have an effective face seal.
Take a look at the JSP Force 8 Mask Here and our PressToCheck P3 Filters.
Recent Articles