Fire doors are an essential part of the fire safety protocol in many residential buildings. Due to the importance, it must be carried out by a professional in the field who not only knows which specified products to use but is specifically trained in the installation of fire doors.
The fire suppressing capabilities of a fire door can be compromised if not correctly installed.
So what should you consider when fitting a fire door? Here are the 5 most common installation faults;



Faulty Fire Seals
61% of fire or smoke seals on Fire Doors do not comply with the Regulatory Reform Fire Safety Order 2005. All fire doors need a gap between the perimeter of the door and the frame so it can function correctly. However, to be complaint, an intumescent fire or smoke seal is required. This expands to minimise the amount of smoke and fire getting through the perimeter gap in the event of a fire.



Incorrect Signage
1 in 3 fire doors have signage that display incorrect or outdated information. Fire door signage must be kept up to date as it is used to guide people in an emergency and to instruct people to keep the fire door shut at all times.



Fire Door Damage
15% of fire doors have visible damage that could prove fatal in a fire. The door leaf is an important component of a fire door, and it must sit properly against the door stop. To work effectively, it must be free of distortion and any dents or holes.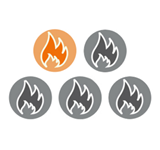 Unsuitable Hinges
1 in 5 fire doors have unsuitable hinges. Fire doors must have a minimum of 3 hinges all secured with the right sized screws and be free of metal fragments and oil leakage. All non-combustible packing should be removed.



Excessive Gaps
34% of fire doors have excessive gaps between the door and the frame. Gaps of more than 3 mm between a fire door and its frame will not hold back fire, smoke, or gasses in an emergency situation. Excessive gaps also fuel the fire by enabling oxygen to get through and can collapse easily when a fire hose is used.
Fitting a Fire Door?
Look at our 750ml Fire Door Foam by Fire & Acoustic Seals.